Routine care and exams
All patients can benefit from annual exams and routine vaccinations. Each species has a specific set of recommended vaccinations that are tailored specifically to their age, breed and sex. Set up an appointment today to discuss and implement these plans for your pets or livestock.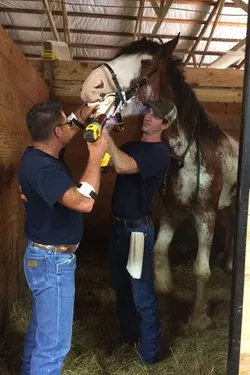 Equine dental care
Horses have a specific type of teeth that erupt continuously throughout their life. This, combined with their side to side chewing pattern, can cause sharp, painful points on your horse's teeth. These points can cause discomfort which can lead to ulcerations, lacerations, and inadequate chewing of their food. Our comprehensive dental exam can identity these problems, which can often be remedied on the farm. We use Powerfloat dental equipment to provide safe, pain-free dental floating for your horses.
Ultrasound
Our IBEX Pro ultrasound is a state of the art machine that provides high quality reproductive images of your horses and cattle.
Reproductive care
We provide reproductive care for all species of farm animals. This may include breeding assistance, pregnancy confirmation, obstetrical assistance, and neonatal care.
Breeding soundness
Our Electrojac bull electroejaculator allows us to provide breeding soundness exams for your sale or herd bulls on the farm.
Lameness workups
Equine lameness can often be a frustrating problem for horse and owner. Our trained veterinarians can help to pinpoint the source of your horse's lameness and institute a treatment plan. Our digital x-rays provide instant, high quality images on the farm.
Digital X-Rays
Digital x-rays provide instant, high quality images on your farm. These images can be saved to a flash drive for future comparison, or for your farrier to view.
Emergency care
We understand that emergencies with farm animals can arise at any time of the day or night.
Our veterinarians are available by phone 24/7/365.